Promotion
%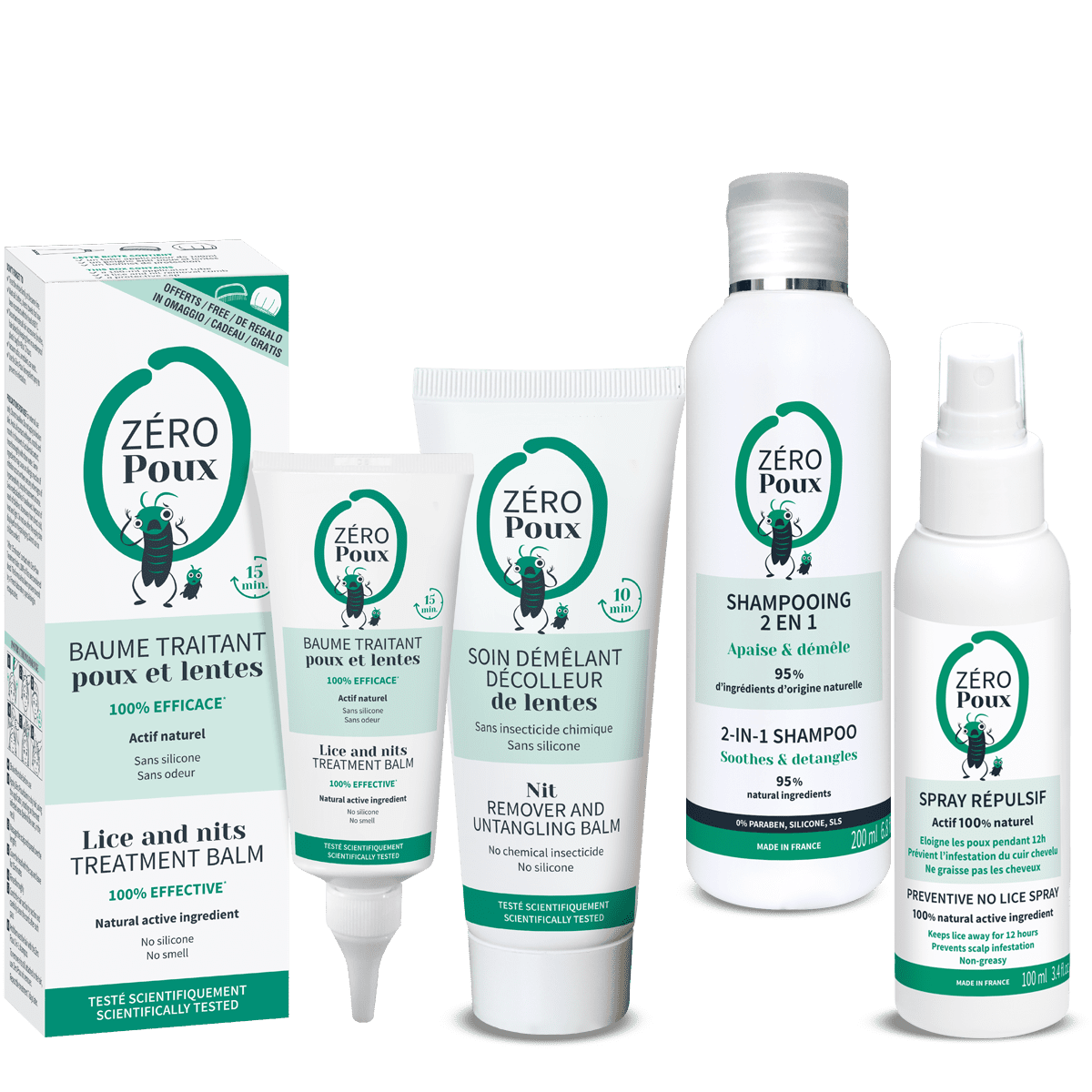 Head lice treatment routine
The Zéro Poux brand offers a comprehensive treatment based on natural active ingredients, a solution with clinically proven effectiveness against lice and nits, that is non-aggressive for the scalp and hair.
Zéro Poux is a medical device that relies on a mechanical and not a chemical action. The complete treatment combines a treatment balm to remove the parasites, a detangling care to help loosen nits, a repellent spray to keep lice and nits away for a whole day at school and a shampoo that soothes and detangles.
Benefits

_Lice and nits are eradicated from the first application.
_The lice repellent spray is active during 12 hours.
_Your children will regain a healthy head of hair protected from lice.
_Coconut oil is effective on lice and nits by asphyxiation, the parasites cannot develop resistance.

Composition

Coconut oil

Has a mechanical action on lice and nits, removing any risk of resistance to chemical processes. It works by asphyxiation, by obstructing their airways.

Citriodol

Eucalyptus Citriodora plant extract Renowned for its repellent properties.

Instructions for use

TREATMENT BALM:
Apply the balm on slightly wet or dry hair from root to tip.
Apply the product as close as possible to the root, using the applicator.
Insist on the most affected areas (behind the ears, in the nape of the neck…).
Massage the scalp to distribute the product evenly.
Put on the plastic cap and leave for 20 minutes.
Rinse thoroughly, lifting the hair at the roots.
Using the Zéro Poux comb, comb the hair strand by strand from root to tip.
In the event of a significant infestation, repeat the treatment 1 week later.

NIT REMOVER
Apply to the hair and massage.
Distribute evenly over the entire head, insisting on the most infested areas.
Leave on for 10 minutes. Rinse thoroughly with lukewarm water.
Shampoo with the Zéro Poux 2-in-1 shampoo.
Dry thoroughly with a towel and comb strand by strand. Rinse thoroughly with cold water. Keep out of the reach of children. Do not use on children under 3.

2-IN-1 LICE SHAMPOO:
Wash the hair with 2-in-1 Zéro Poux shampoo.
Repeat for greater softness.

REPELLENT SPRAY:
Apply the repellent spray 10 to 15 cm from the hair avoiding all contact with eyes.
Distribute an adequate amount evenly throughout the hair,
insisting on the most sensitive areas (nape of the neck and around the ears).
Leave to dry naturally.
Can be used daily without the hair being damaged or feeling greasy.