Promotion
%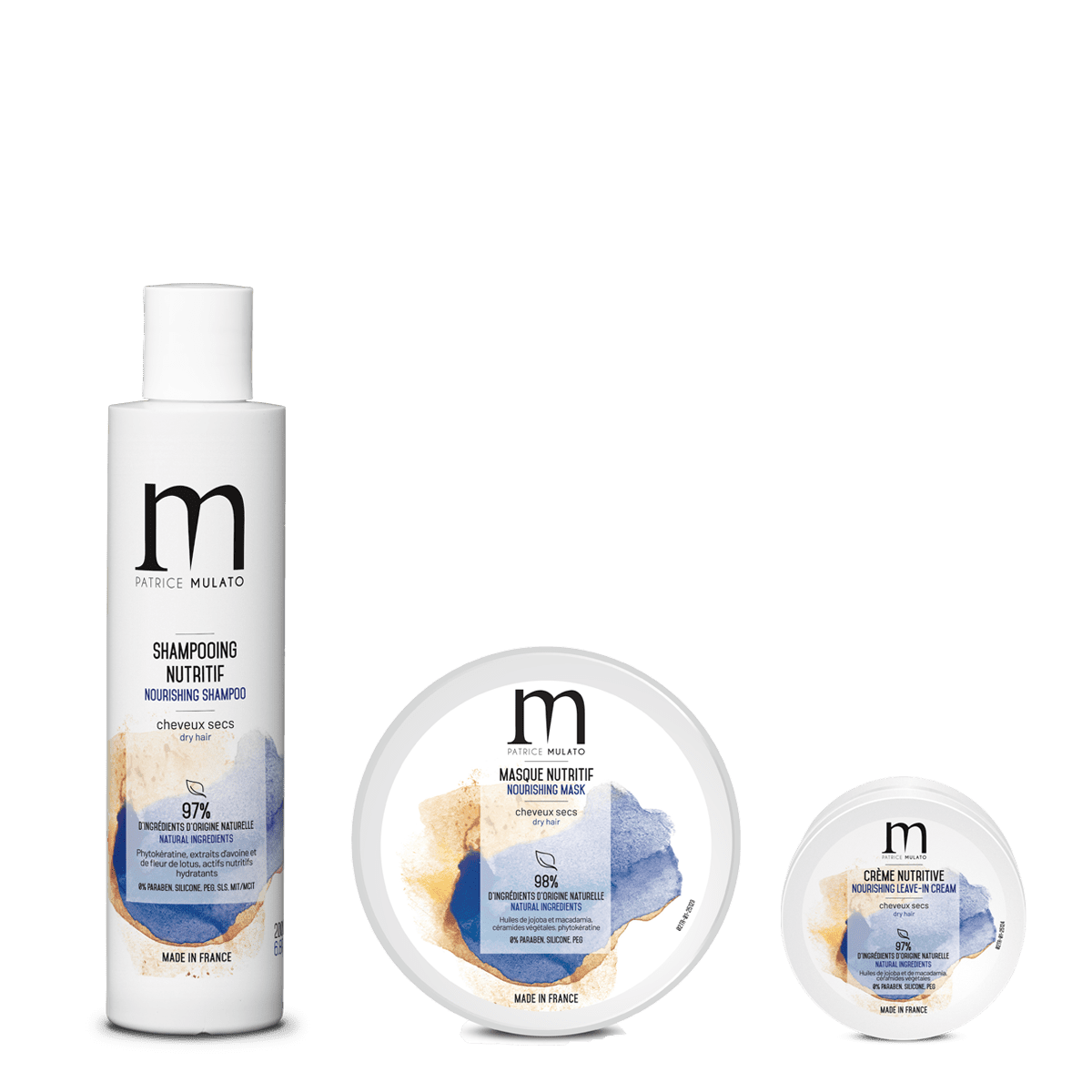 Nutritive for dry hair
Dry hair is difficult to brush and appears dull. The water contained in the hair fibre escapes through tiny gaps when the cuticles become rough and porous,
leaving the hair dehydrated. As hair is damaged by the repeated use of hair driers, unsuitable products or multiple colourings, the hair becomes more fragile. Patrice Mulato offers three natural beauty products – shampoo, mask and cream – for easy to style, deeply nourished and hydrated hair.
Benefits

– Hair that is intensely nourished and repaired.
– Softness, bounce, shine and easy to style.
– Regenerated scalp, hair shafts restructured and strengthened.
– Hair scales are flattened, fibres are coated and smoothed.

Composition

Phytokeratin

Derived from wheat protein. Fills gaps in fibres. Smooths cuticles.

Macadamia oil and jojoba oil

Rich in essential fatty acids. Regenerate the hair fibre.

Plant ceramides

Smooth hair scales. Protect and strengthen the hair fibre.

Instructions for use

1. Shampoo hair twice with the Nutritive shampoo
2. Apply the Nutritive mask on clean, towel-dried hair
3. Leave 3 to 6 minutes and rinse.
4. Take 2 or 3 dabs of Leave-In nutritive cream for dry hair in the palm of your hand and apply it from mid length to the tips of the hair. Use the appropriate amount according to the thickness and length of the hair.
5. No need to rinse, simply style the hair as normal.
The Leave-in nutritive cream for dry hair can be applied to wet or dry hair every day.