Promotion
%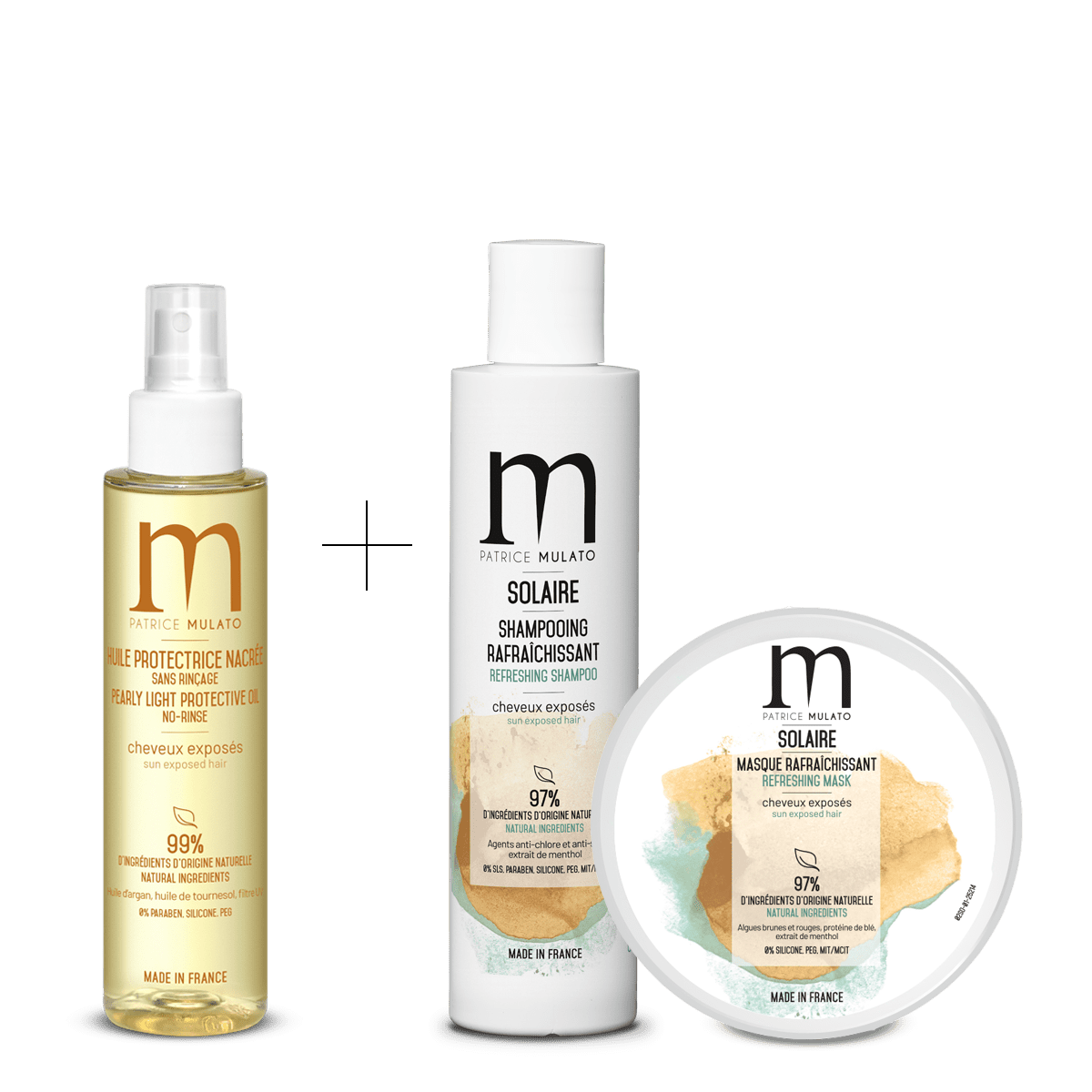 Sun protection
If hydrating and protecting the skin from the sun has become a habit, the hair is often neglected. Sea water, chlorine and sunshine are all factors that alter the hair fibre during the summer. When damaged, the hair becomes drier, brittle and loses its radiance. That's why, during the summer, it's important to change your hair care habits and use a moisturising and protective hair care ritual. With the aim of caring for exposed hair, Patrice Mulato has formulated a range of specific natural products to protect hair from aggressions and provide the hydration it needs.
Benefits

– The hair is protected from UV rays and dehydration
– The scalp is refreshed and free from chlorine and salt residues
– The hair is soft and shiny

Composition

Menthol

With its refreshing and calming effects, it revitalises the scalp after exposure to the sun.

Argan oil

Renowned for its nourishing and regenerating properties, it strengthens the hair and adds shine.

Red Algae

With their high content in essential minerals, they limit the loss of water and protect the hair from dehydration.

Instructions for use

During sun exposure
1. Shake the bottle thoroughly, then apply the Protective solar oil evenly over the entire hair.
2. Do not rinse. Repeat the application as often as necessary.

After sun exposure
1. Apply the Refreshing solar shampoo evenly to damp hair and massage gently. Rinse.
2. Shampoo the hair a second time and leave 2 to 3 minutes before rinsing.
3. Apply the refreshing solar mask on damp hair. Distribute the mask over the whole head from the scalp to the tips of the hair.
4. Leave for 3 to 7 minutes then rinse.

For a cooling effect, store the mask in the fridge before use.